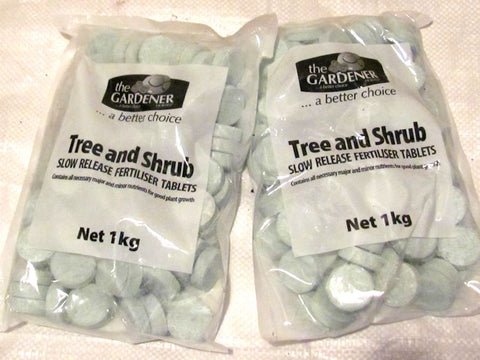 Fertiliser Tabs - 100 qty
100x Slow Release Fertiliser Tablets.
The tablets are small but mighty, add at time of planting just under root ball or add to plants already in ground by pushing tabs just under surface approx 10cm from trunk. Give new plants a big boost in early growth, or revitalise older established plants. Essential to keep potted plants looking fantastic, just push a couple into pot and watch your favorite plant flourish. We use these on all our new native plantings, house plants, and push them in around our existing plants. The results are astonishing! Highly recommend for all new native plantings.
Continuous and controlled slow release of fertiliser and micronutrients for up to 2 years.
Recommended applications:
Plants up to 30cm Tall - 1 to 3 tablets
Plants 30cm - 1m Tall - 2 to 5 tablets
Plants over 1 metre tall - 5 tablets plus
Chemical Analysis of Slow Release Fertiliser Tablets:
Nitrogen 20.0%
Phosphorous 4.0%
Potassium 4.0%
Sulphur 2.0%
Magnesium 2.0%
Calcium 1.5%
Boron 0.06%
Copper 0.10%
Iron 0.75%
Manganese 0.25%
Zinc 0.25%
Free Shipping with any plant purchase - otherwise shipping will be charged manually
---
We Also Recommend